Requirements
Upholding the Industry Standard
Our company standards for employment allow us to provide our clients with the highest quality security teams in the industry. All candidates are given equal consideration for hire.
Security officers' minimum eligibility requirements:
Minimum Qualifications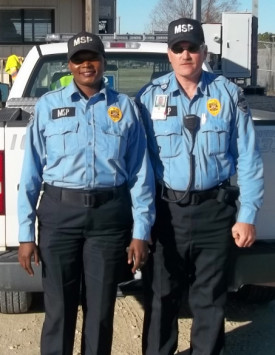 Must be a US citizen
Must have a high school diploma or GED
Must be able to read, write and speak and understand English fluently
Must have a valid driver's license and social security card
Must have reliable transportation to and from work assignments. Work assignments may have irregular times of day and night, weekends, and holidays.
Must have, and maintain, a working telephone
Must be at least 21 years of age for security positions or must be 18 years of age for administrative positions
Must have at least two years verifiable work or school history
A minimum of one year previous security, law enforcement, or military police experience
Must be able to obtain a Security Guard Gun Permit issued through the Mississippi Highway Patrol Firearms Permit Division
Must not have any terminations or disciplinary actions at previous employers for theft, dishonesty or excessive absenteeism
A criminal background check will be performed. Applicants must not have any of the following convictions:

Conviction for any crime considered a felony by the state of Mississippi
Conviction of any crime considered theft or assault by the state of Mississippi
Any misdemeanor arrests or convictions that would denote a pattern of irresponsibility or poor judgment.